Many children have difficulty learning to write. Handwriting struggles can be some of the most challenging obstacles in children and young adults as they're growing up. Children's fine motor skills may not be keeping up with their desire to learn and progress academically.
Without the skills to write clearly and effectively, many kids pull away from their studies and experience issues with low self-esteem.  To compensate this issue children resort to using unconventional ways to grip a pencil forming a habit that becomes very difficult to break and subsequently learn the proper "tripod" finger position.
There are ways to improve handwriting skills. Writing aids can actually be more than helpful–they can be fun!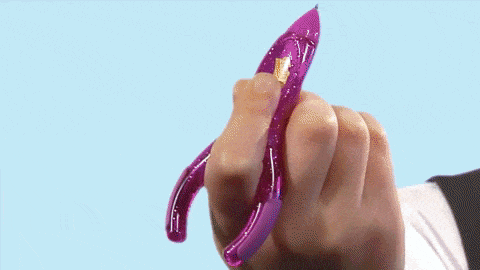 PenAgain helps with those problems. Its unique "Y" design provides the ideal grip for maximum control and consistency while reducing stress on the hand. It takes advantage of the natural weight of the hand rather than rely on the child's ability to grip the pencil. It's a highly effective tool that increases the child's ability to adopt an efficient tripod grasp sooner.
KEY FEATURES
Ergonomic design ensures the proper "tripod" finger position.
Refillable
Dual built-in erasers.
Does not need sharpening
Simple twist-action to extend the lead
2mm lead does not break easily
Bright colors.

Designed to fit small hands

Helps kids learn to write more easily

Leads can be refilled

Great for home or classroom